Nothing says fall quite like those crisp cool mornings, glistening frost across the yard and breaking out those jackets that have been stuffed in the back of the closet. Now that Fall is finally upon us, so is the hustle and bustle of the upcoming holiday season.  Among the already insane work schedules, errands, appointments, and just keeping up with the day-to-day, don't let hosting a Friendsgiving be an added stressor to your life!   
What is Friendsgiving? "A Thanksgiving celebration with one's friends as opposed to one's family." Another way to look at it is an evening spent with your closest friends enjoying the holiday's classic dishes – and don't forget the WINE! Here is your guide on how to host a stress-free Friendsgiving! 
Who's Sitting at the Table?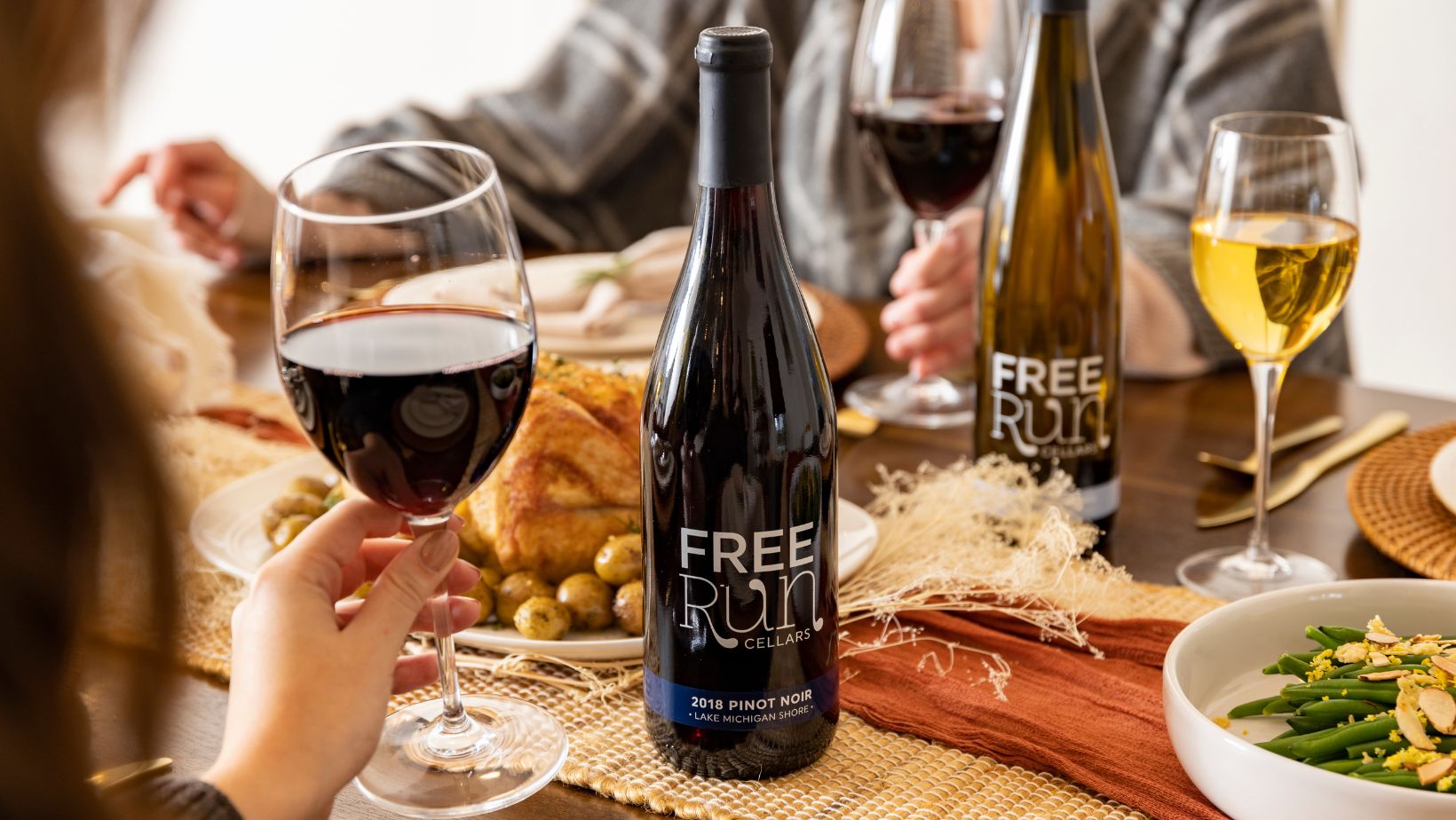 Before you jump in the car and speed off to Target, let's pause and start with the guest list. Friendsgiving is a great way to get your circle of people together, and the best part is, you get to make the guest list! So, no dreaded talks with Aunt Betsy or painful politics at the dinner table. Decide how big or small you want the party to be; then, it's time to divide and conquer.
Delegate the Dishes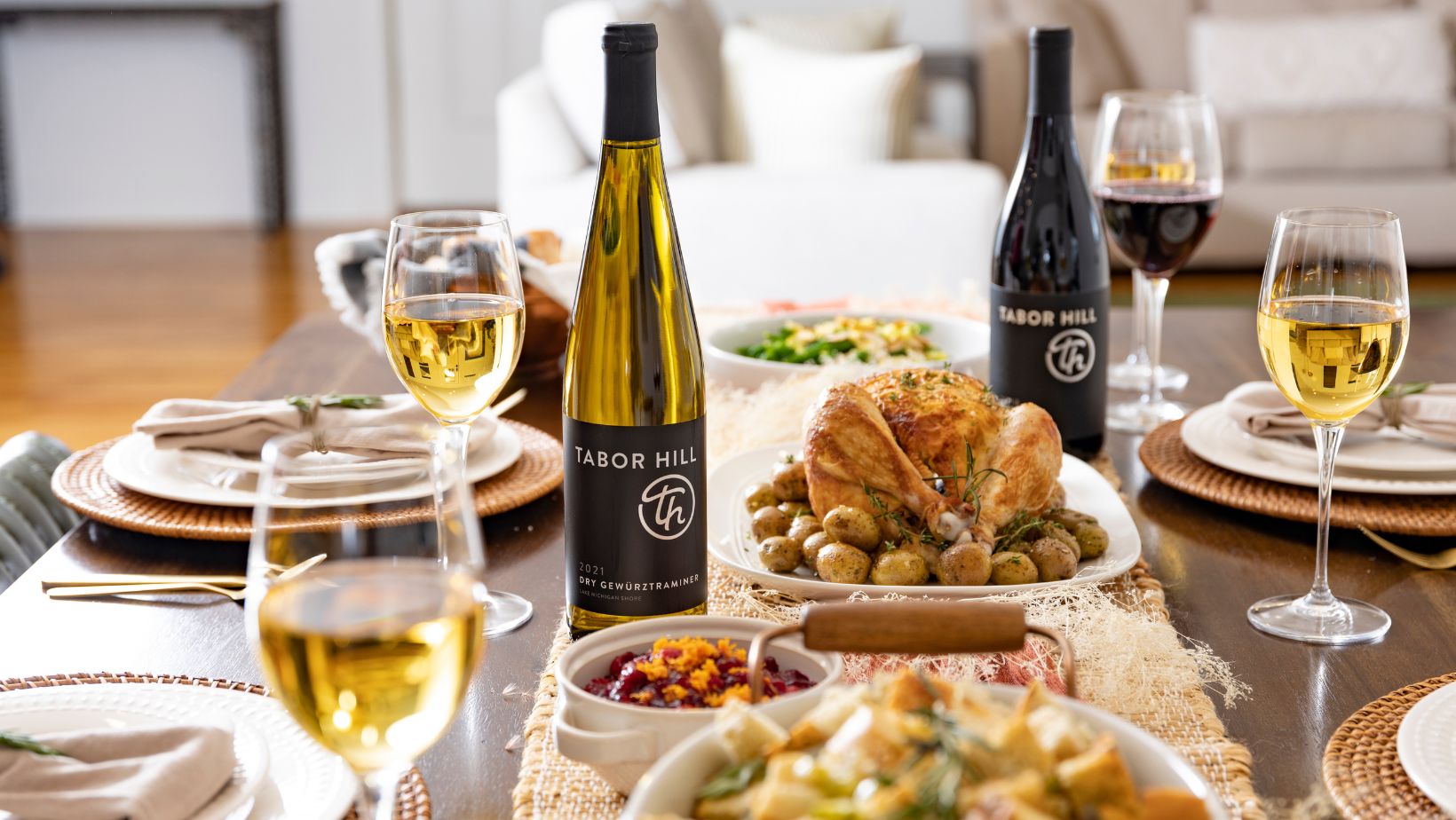 No gathering, especially when it is with your favorite people, should feel stressful.  Make it easy on yourself to truly enjoy the party and be a smashing host by harnessing the power of delegation. Thanksgiving feasts are made up of so many different parts and pieces that no one person could possibly be expected to be responsible for everything.  Friendsgiving is all about your community, so work with your guests to make it a stress-free party!  Ask them to bring one dish and make sure you don't have repeats by making yourself a list. Be sure to let your guests know that this is a potluck when you invite them or if you plan to utilize web events, be sure to list what is expected in the event details so guests can plan ahead.
Grazing Station or Snack Area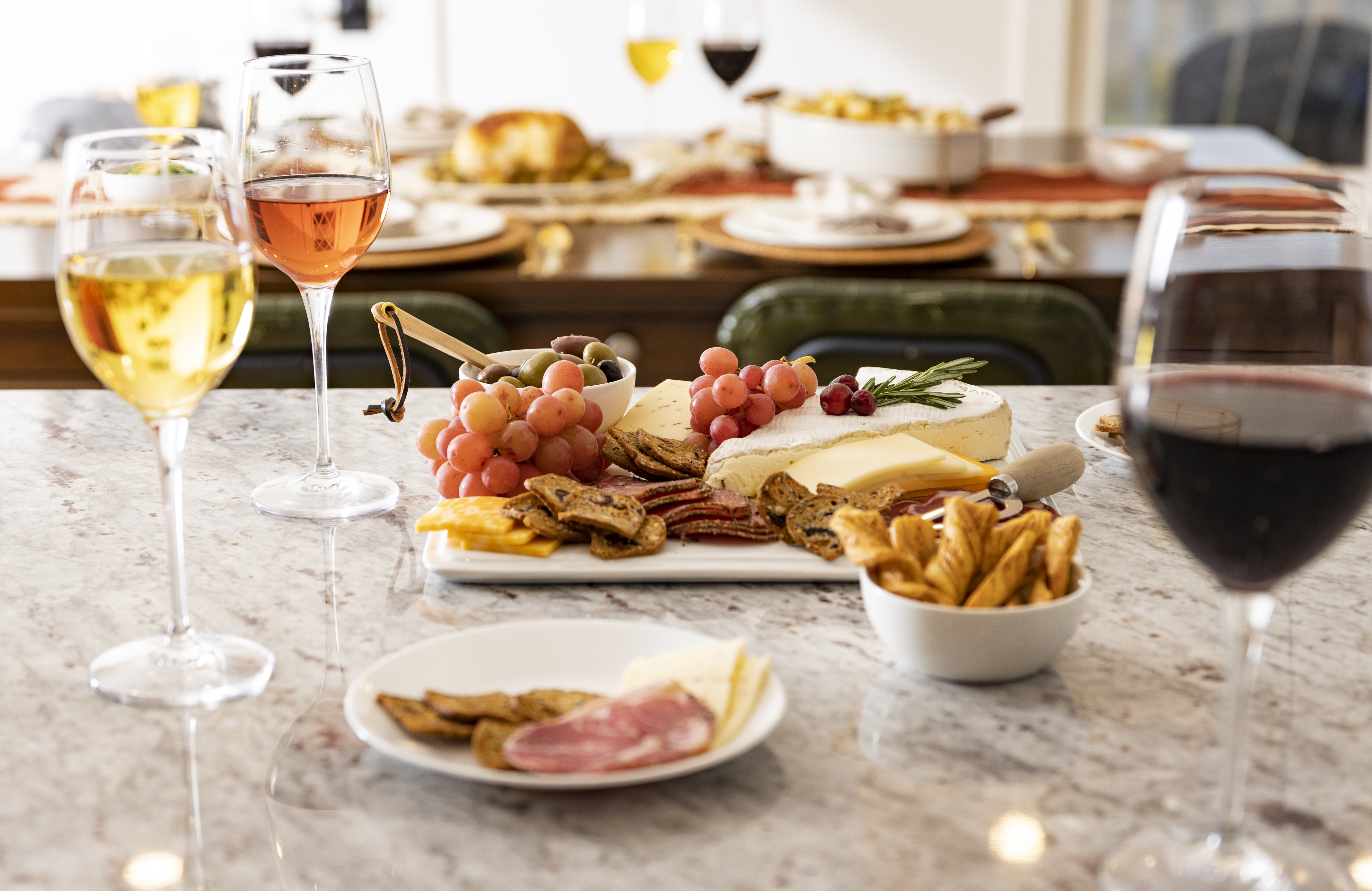 Since I am known as the snack queen, you know this was not a section to be overlooked!  If you have guests that may not be familiar with each other, create a space where they can comfortably hangout. Having a dedicated snack station or charcuterie board on the counter will help tide guests over until you are ready to sit down for the meal.  Remember, no snack doesn't pair well with a glass of wine...
Pairing Wines For Your Menu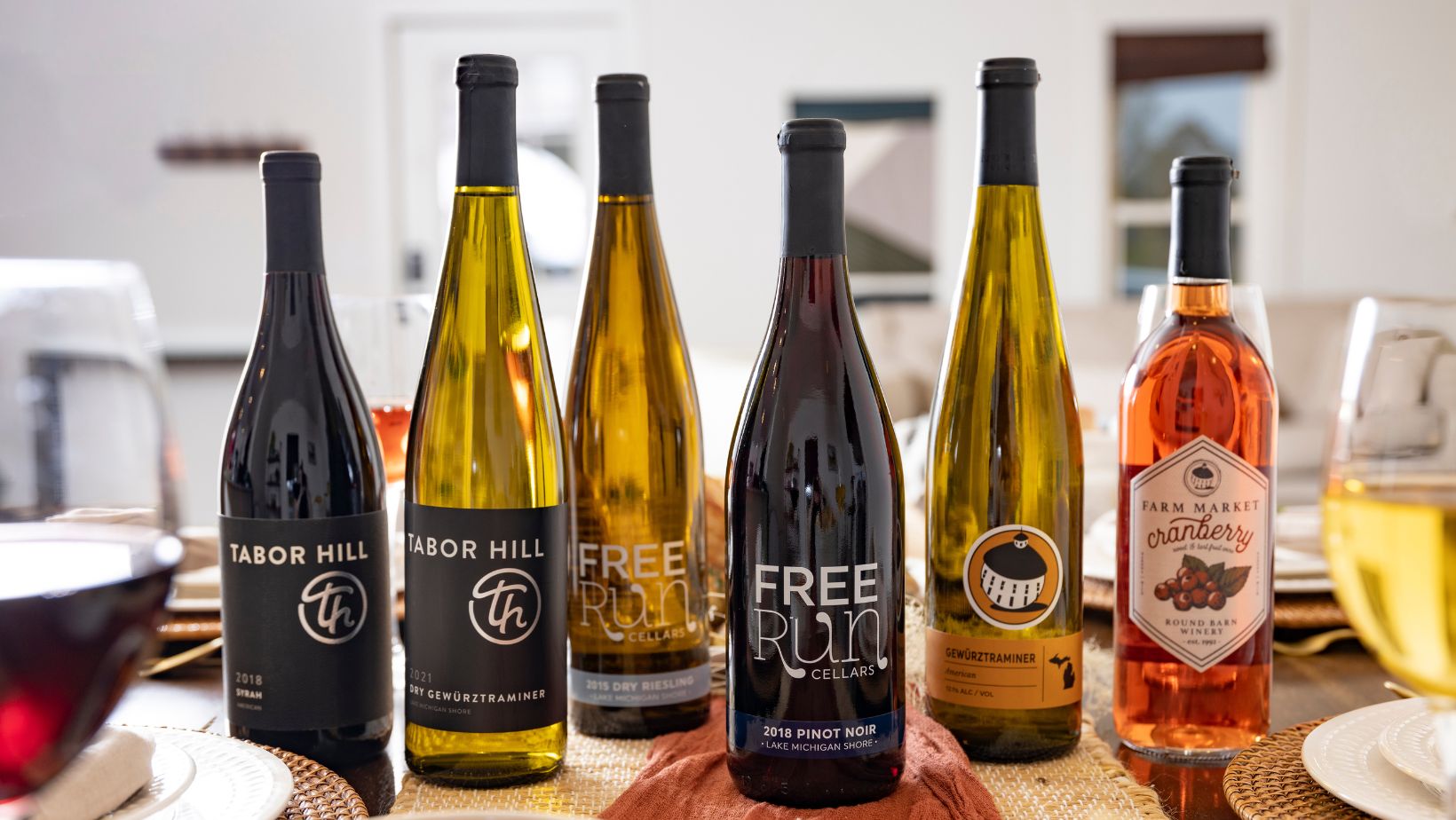 Look no further if you have never picked out wines to pair with a meal or stocked your home bar for a gathering!  A sure way to impress your guests and take out the guessing about which wines are good with what; we have created a classic menu to pair with each of our wines - use this as your guide. Even better, if you are the guest in charge of bringing wine to the party, here is your ticket to looking like a sommelier without having to study all the wines. And we can ensure you these will pair beautifully as our very own Nicole Brown - Art Director & Level 2 Sommelier - created this menu and selected the pairings. And let me tell you, there was absolutely no leftover pie...or wine...
Setting the Table for Success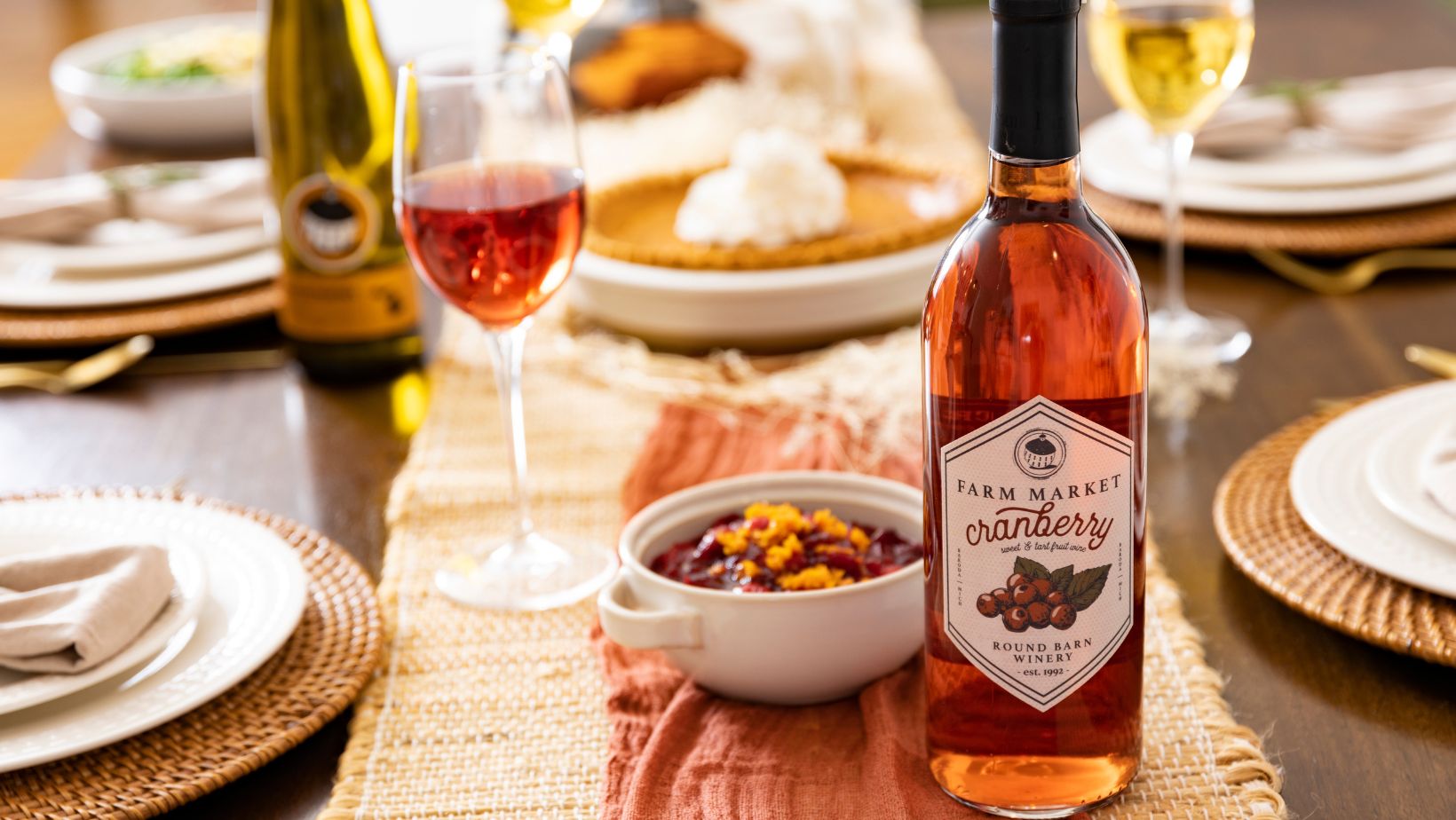 Now that the guest list is set, the food has been assigned, and you have ordered your wine, you can now focus on creating a cozy space for you and your guests to enjoy. In my experience, the one item that tends to be overlooked is the table. Make sure you have a table that can seat all your guests and has space for place settings and all the dishes. Another key rule to remember, less is more! While all those little pumpkins and candles are so cute on the table, be sure to leave room for the meal itself.

To protect your table and create a "landing spot" for your dishes, use a table runner and place it in the middle of the table. Make sure it is long enough to either reach end to end of the table, or leave just enough room so there is enough space for a place setting at the head of the table. To add a pop of color, you can buy a cheesecloth runner or some fresh greens to bring texture. This not only adds some beautiful color and simple décor, but it also brings organization to your table. If you want to save on. cleaning time, invest in disposable place settings! There are plenty of options online that look just like the real thing without breaking the bank, or your heart if there is an accident!

Full Hearts, Full Bellies, Fill the Fridges
If you are hosting a Friendsgiving, the last thing you want is to be left with all the food you cannot possibly eat before tossing it in the trash. While you might not typically love leftovers, there is something different about those Thanksgiving leftovers. To avoid people just grabbing their dish and going home, plan and order some to-go boxes. Your garbage disposal and future self will thank you by sending some of that extra food home!
And there you have it! I hope you feel encouraged and empowered to host your Friendsgiving!  It's the perfect way to gather all your favorite people together and show them how thankful you are to have them in your life. Now – you have some planning to do!