It's that time of year again, filled with pumpkins, costumes, and oh so many sweet treats! Whether you're hosting a Halloween party or simply enjoying the festivities at home, pairing your favorite Halloween candies with the right wine can be a game changer to your celebration. Check out some of our favorite pairings – and yes, we did try them - that are sure to make your spooky soirée that much better.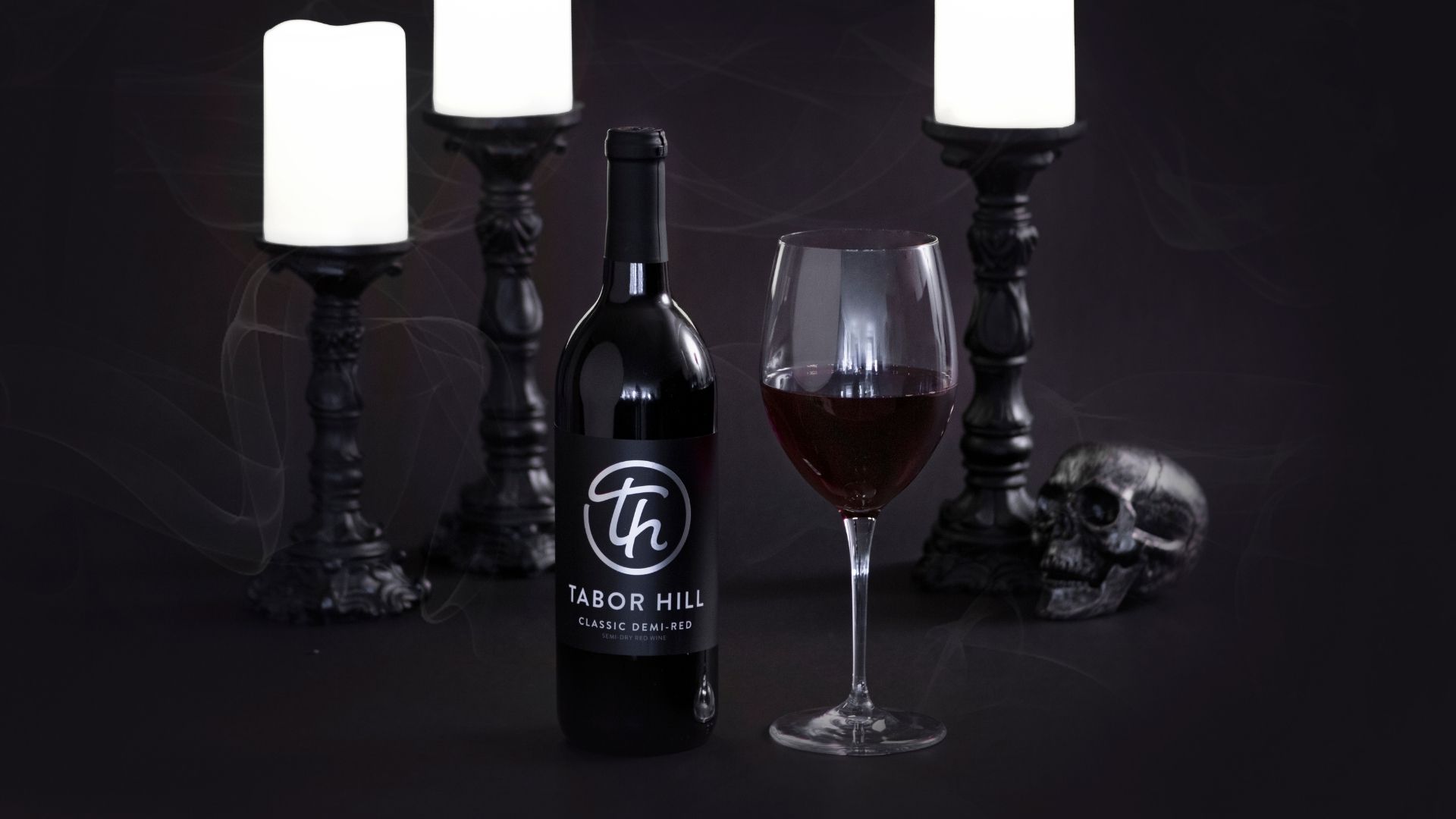 Pairing Halloween Candy with Wine
Milk Chocolate and Merlot | A classic for a reason. The smooth, creamy texture of milk chocolate harmonizes beautifully with the luscious flavors of a Merlot. The wine's velvety tannins complement the sweetness of the chocolate, creating a truly indulgent experience. 
➡ Our recommendation: Tabor Hill Merlot
Caramel Treats and Chardonnay | Caramel is a quintessential flavor of the Halloween season. Pair it with a rich, buttery Chardonnay to bring out the caramel's sweetness. The oaky notes of our Chardonnays bring out the caramel's deep flavors of goodness. 
➡ Our recommendation: Tabor Hill Chardonnay
Sour Candies and Sauvignon Blanc | Embrace the tangy zing of sour candies with a crisp Sauvignon Blanc. The wine's citrusy and herbaceous notes perfectly balance the sourness, providing a refreshing and invigorating taste sensation.
➡ Our recommendation: Round Barn Sauvignon Blanc
Candy Corn and Riesling | Of course we had to find a pairing with the most iconic candy of the season.  Candy corn's sugary sweetness is perfectly contrasted by the crisp, slightly sweet notes of a Riesling. The wine's acidity helps cut through the candy's sweetness, making for a pairing that is to die for!
➡ Our recommendation: Round Barn Riesling
Dark Chocolate and Pinot Noir | This one might be a no-brainer, but dark chocolate and a good red is a personal favorite.  The bitterness of the chocolate is tamed by the notes of red fruit and the subtle earthiness of Pinot Noir. This combination allows you to savor the chocolate and wine complexities. 
➡ Our recommendation: Free Run Cellars Pinot Noir
Candy Apples and Sparkling Wine | The crispness of sparkling wine, such as Champagne or Prosecco, perfectly contrasts the sticky sweetness of candy apples. The bubbles help cleanse the palate after each sugary bite. 
➡ Our recommendation: Tabor Hill Sparkling Demi-Sec
Treat yourself this spooky season to a tasting adventure that captures the essence of Halloween while adding a level of sophistication by pairing your favorite candies with the perfect wines. Whether you prefer the velvety dance of Merlot and milk chocolate or the tangy embrace of Sauvignon Blanc and sour candies, these pairings will surely add an element of excitement to your Halloween celebrations. So, grab your candy stash, pour a glass of your favorite wine, and enjoy a hauntingly delicious Halloween!