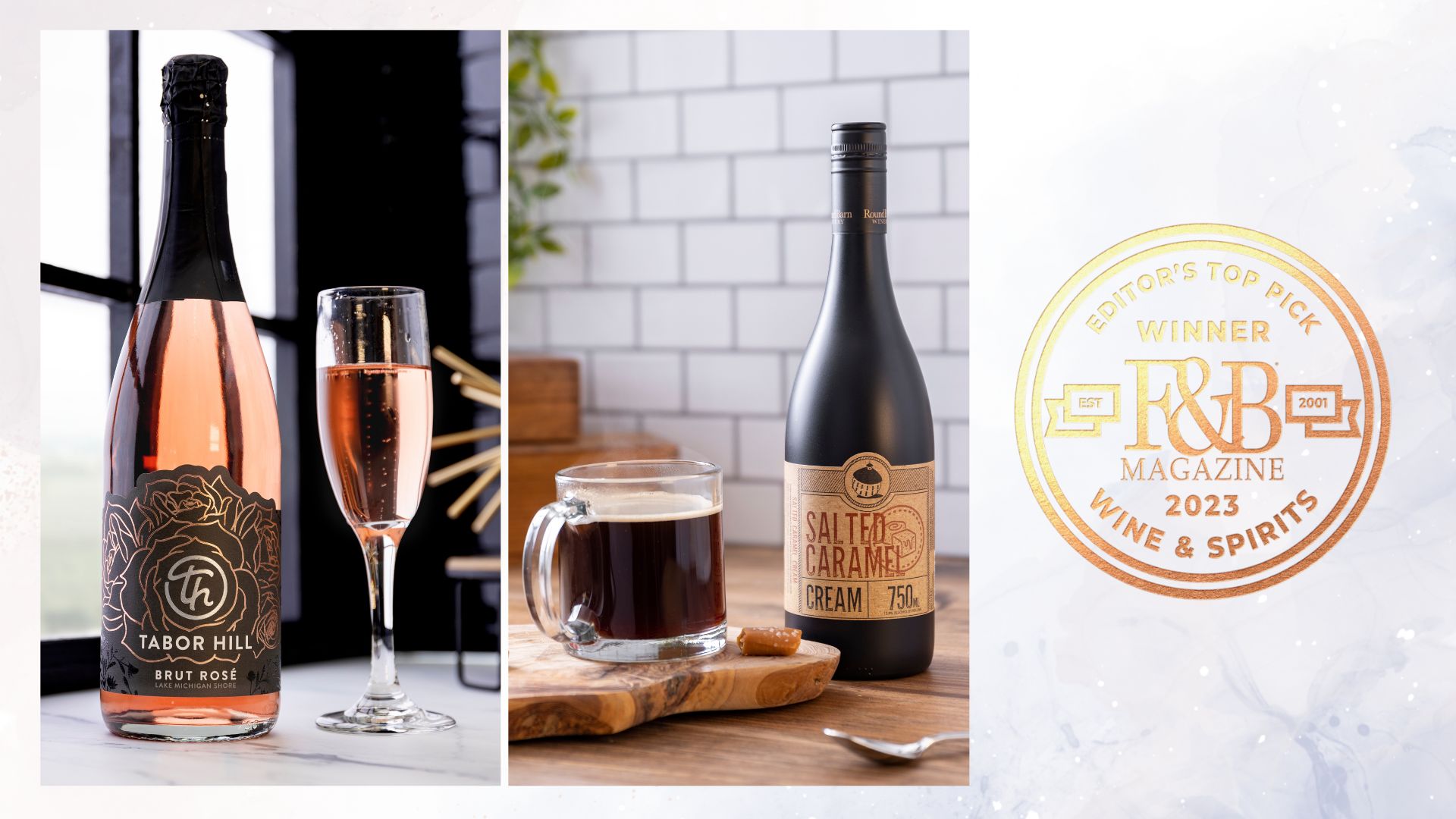 Cheers to our new Tabor Hill Brut Rosé and fan-favorite Round Barn Salted Caramel Cream: A Double Delight, included in 2023 Food & Beverage Magazine's Editors' Top Picks!
Raise your glasses in celebration because we are proud to announce that two of our finest offerings (and personal favorites) have snagged a spot in the highly sought-after 2023 Food & Beverage Magazine's Editors' Top Picks for Wines & Spirits. Our elegant Brut Rosé and sinfully delicious Salted Caramel Cream have wowed the palates of the magazine's editors, securing them a place as the crème de la crème of the industry.
At Tabor Hill Winery, we are over the moon about our new Brut Rosé's triumph in Food & Beverage Magazine. Bursting with flavors of red berries and delicate floral notes, this sparkling pink gem promises an unforgettable sip that will make your taste buds tango with joy.  As the epitome of elegance, this bubbly is destined to turn any occasion into a celebration.
Not to be outdone, over at Round Barn Winery, we have become masters in the art of crafting cream-based wines and are thrilled to see the Salted Caramel Cream take center stage in Food & Beverage Magazine's Editors' Top Picks. Brace yourself for a rollercoaster ride of decadence as this velvety concoction swirls the irresistible flavors of creamy caramel with a tantalizing sprinkle of sea salt. Our Salted Caramel Cream is the kind of liquid gold that dreams are made of, delivering pure indulgence in every heavenly sip.
Having our creations recognized by Food & Beverage Magazine is like popping open a bottle of pure success for both of our wineries. These accolades showcase our team's commitment to crafting top-tier products every time. Our winemakers have truly raised the bar when it comes to quality, craftsmanship, and pushing the boundaries of flavor.
Thank you to Food & Beverage Magazine for selecting some of our favorite creations as Editor's Top Picks. Cheers!