Your mission, should you choose to accept it, is to complete the Sip + Savor Wine Trail and become a certified trail master. Yes, you heard that right. You have the opportunity to be a part of an elite group of individuals who took it upon themselves to complete the Moersch Hospitality Group Sip + Savor Wine Trail and earn this prestigious title.
Now you are probably asking yourself, "Meagan, how do I earn this noble title? What is the Sip + Savor Trail?" Well, I am here to give you all the details and ensure you are set up for success on this mission.
A few years ago, we sat and put our heads together to try to come up with a way to offer our guests an opportunity to experience all that our properties have to offer. We quickly realized that each individual property: Round Barn Winery & Estate; Tabor Hill Winery & Restaurant; Free Run Cellars; Round Barn Brewery, Public House, and Beer Garden; Tabor Hill Bridgman Tasting Room; Round Barn Union Pier Tasting Room – has built its own reputation and following. We love that each venue offers a truly unique experience for our guests. However, we've realized that not everyone knows they are all under the same umbrella of Moersch Hospitality Group. Thus, the Sip + Savor Trail was born.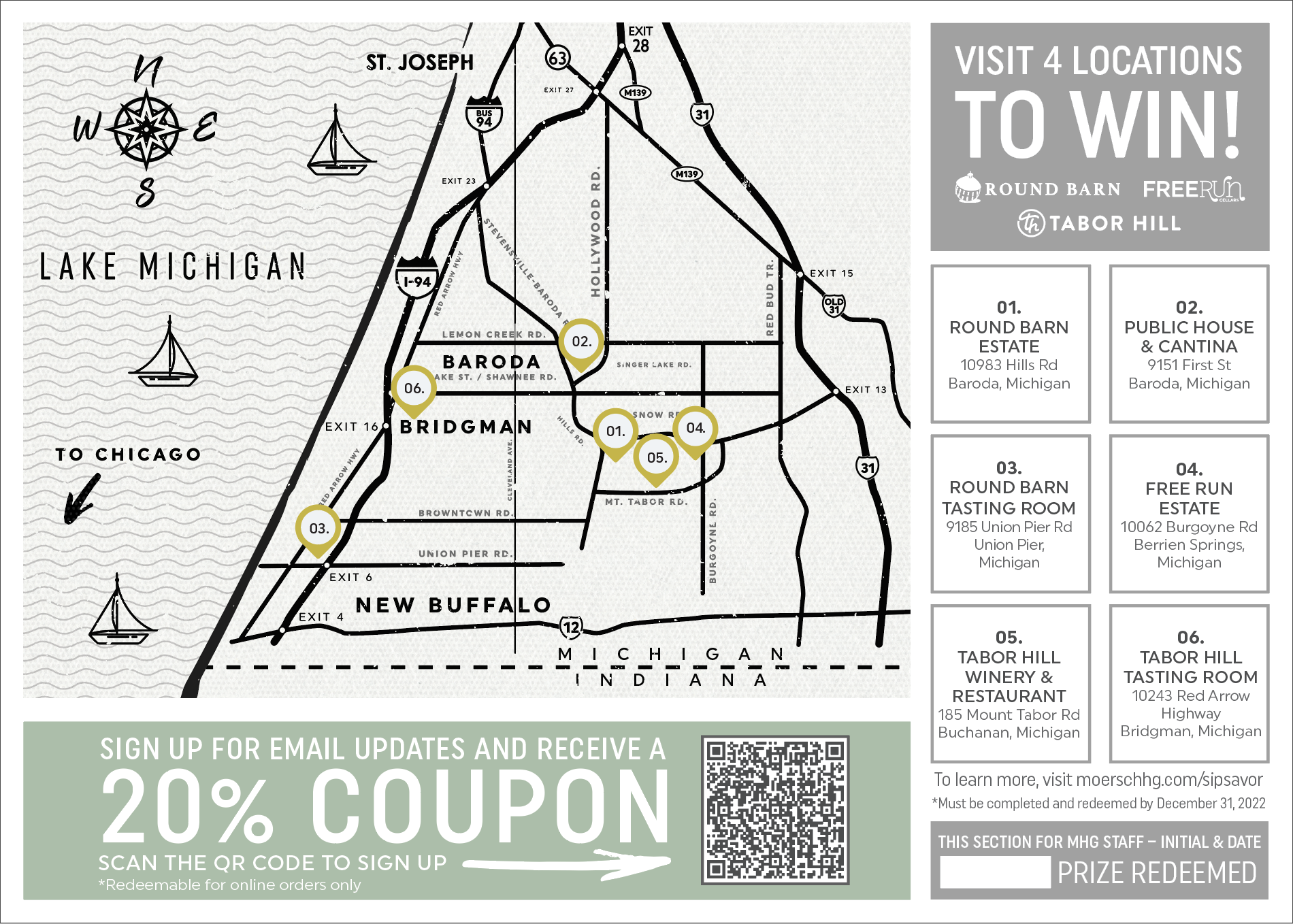 The Sip + Savor Wine Trail is a self-guided experience that encourages guests to get out of their comfort zone and try something new. From fine wines to craft beers and spirits, MHG offers something for everyone, and each property offers its area of expertise.
Round Barn Brewery & Public House | Baroda, MI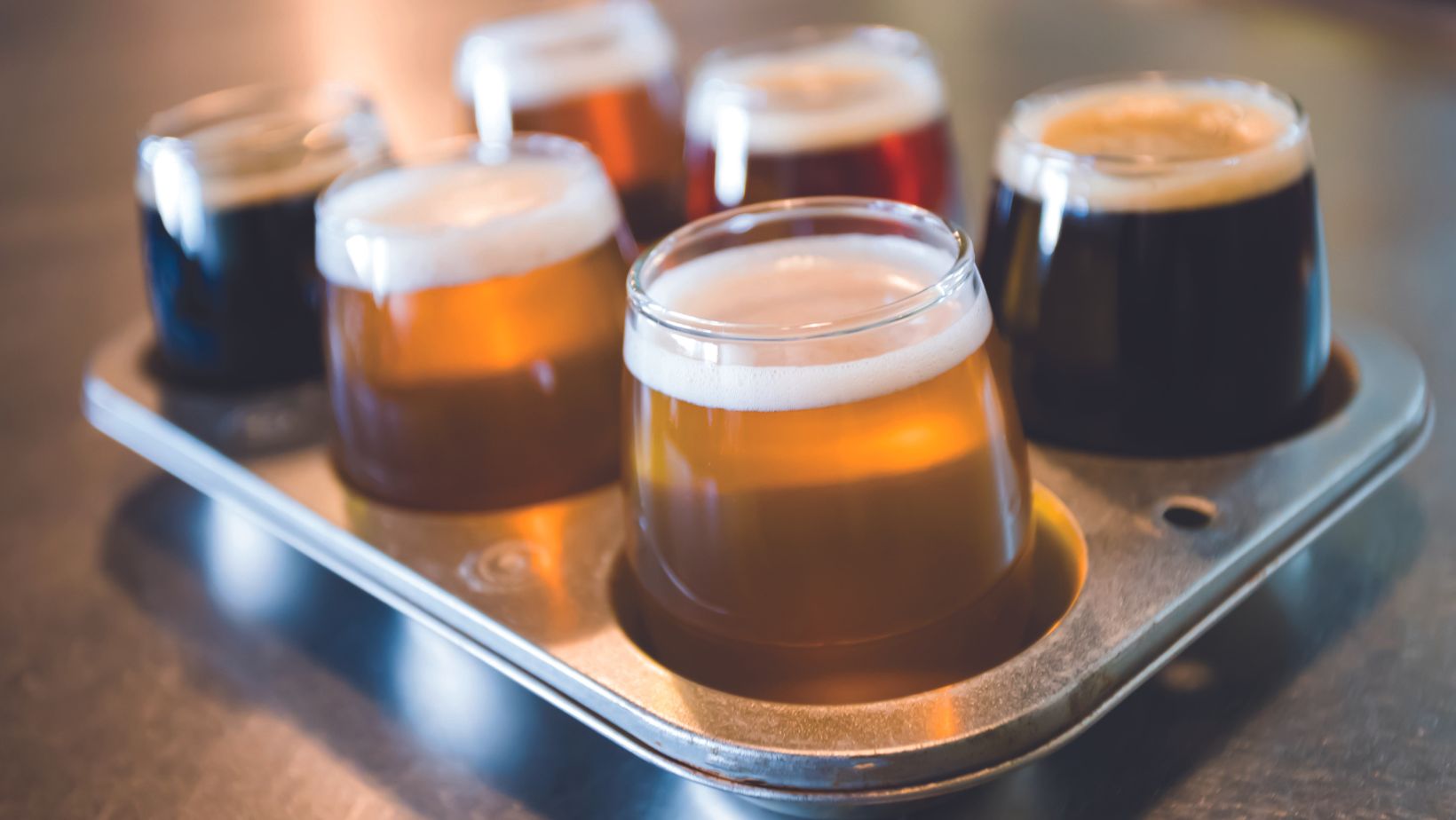 Looking to dip into the world of craft beers? Check out the Round Barn Brewery & Public House, where we host a selection of our own brews. From the hoppiest of IPAs to the richest of stouts, we assure you there is something for everyone.
Round Barn Winery & Estate | Baroda, MI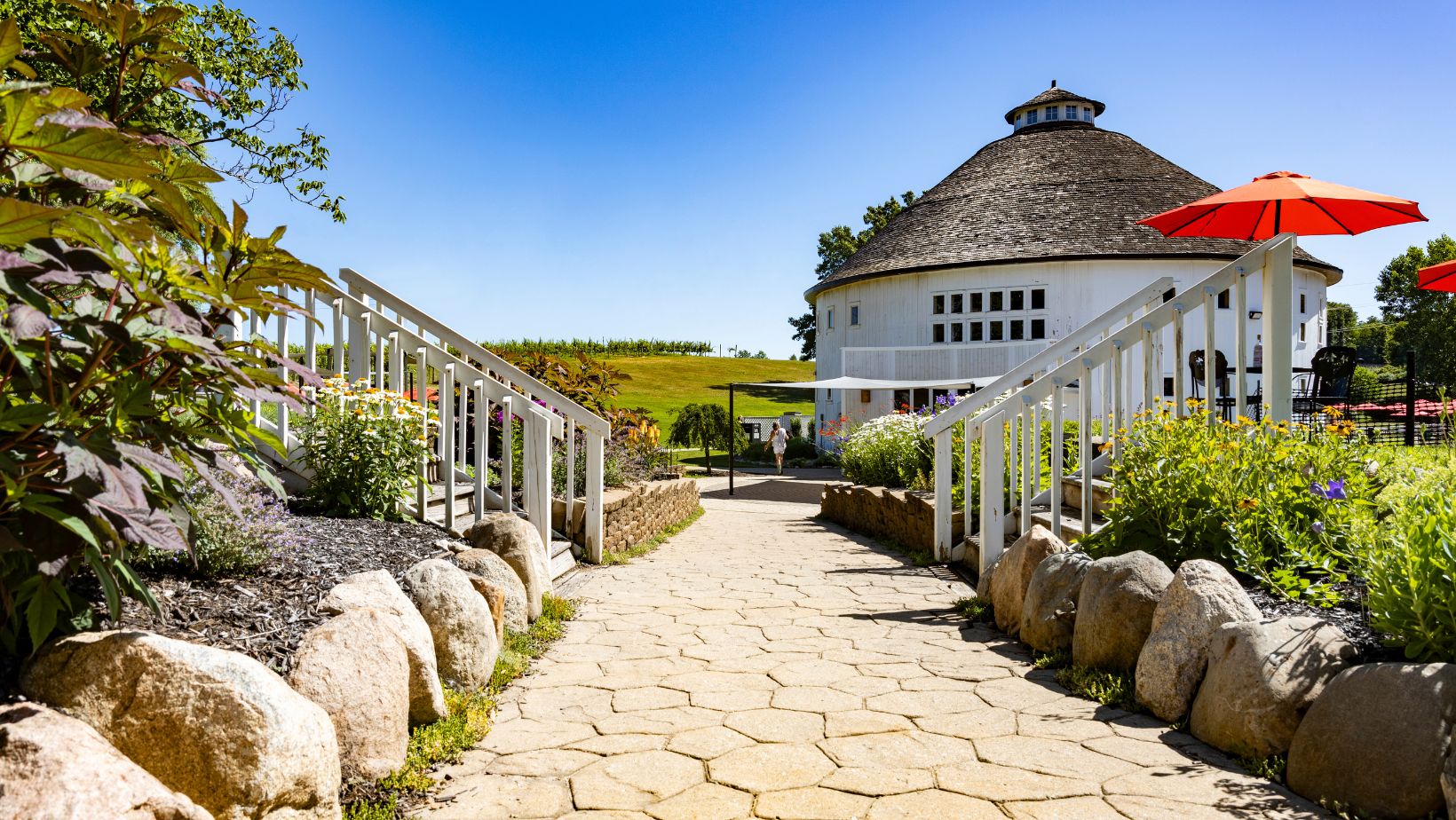 New to the wine world? Either Round Barn Winery & Estate or Union Pier Tasting Room is the perfect spot to get your feet wet and try a variety of Lake Michigan shore wines. 
Free Run Cellars | Berrien Springs, MI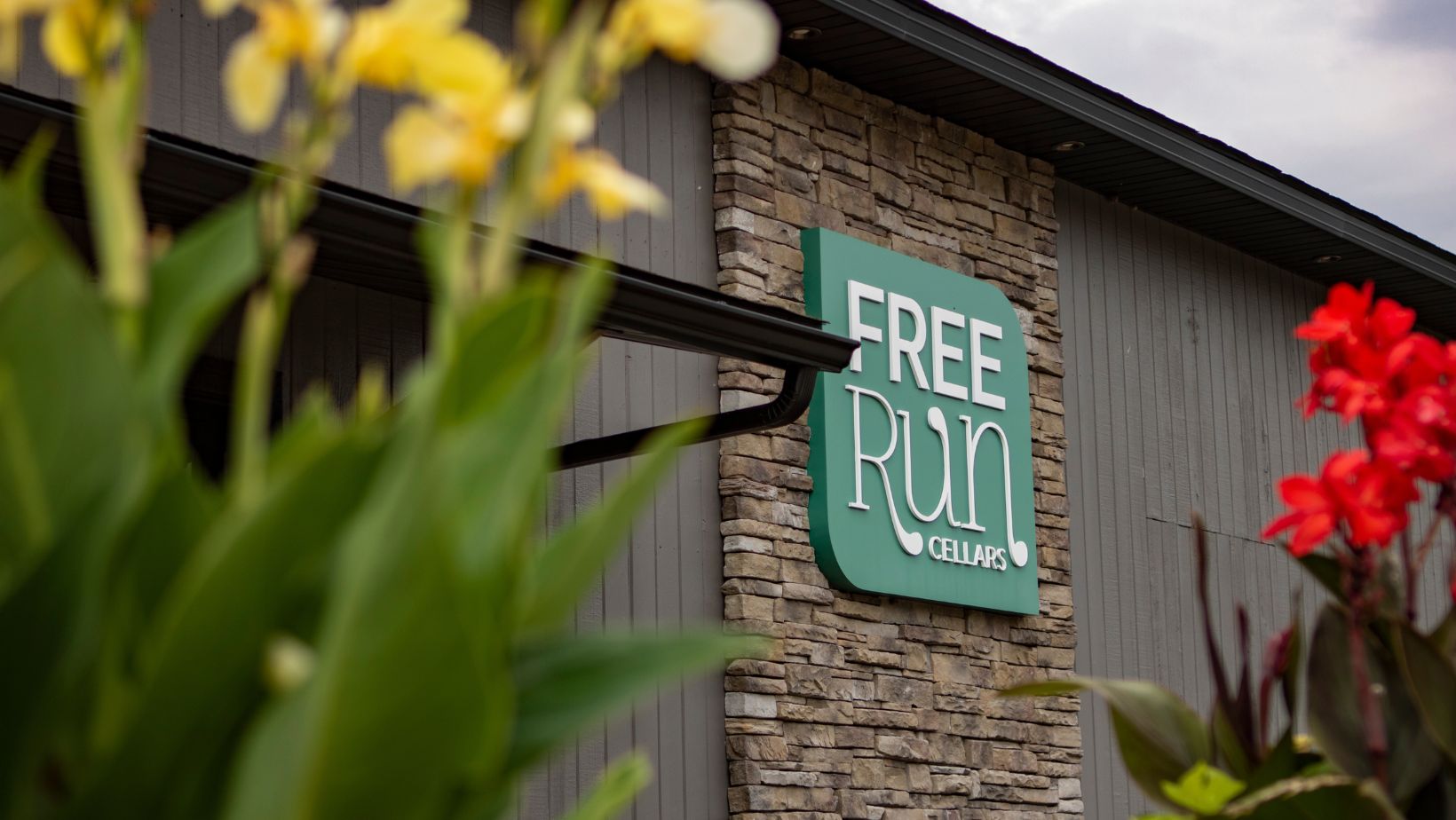 Fancy yourself an expert and looking for something truly unique? Free Run Cellars is our small-batch, boutique winery, known as one of Southwest Michigan's best-kept secrets.
Tabor Hill Winery & Restaurant | Buchanan, MI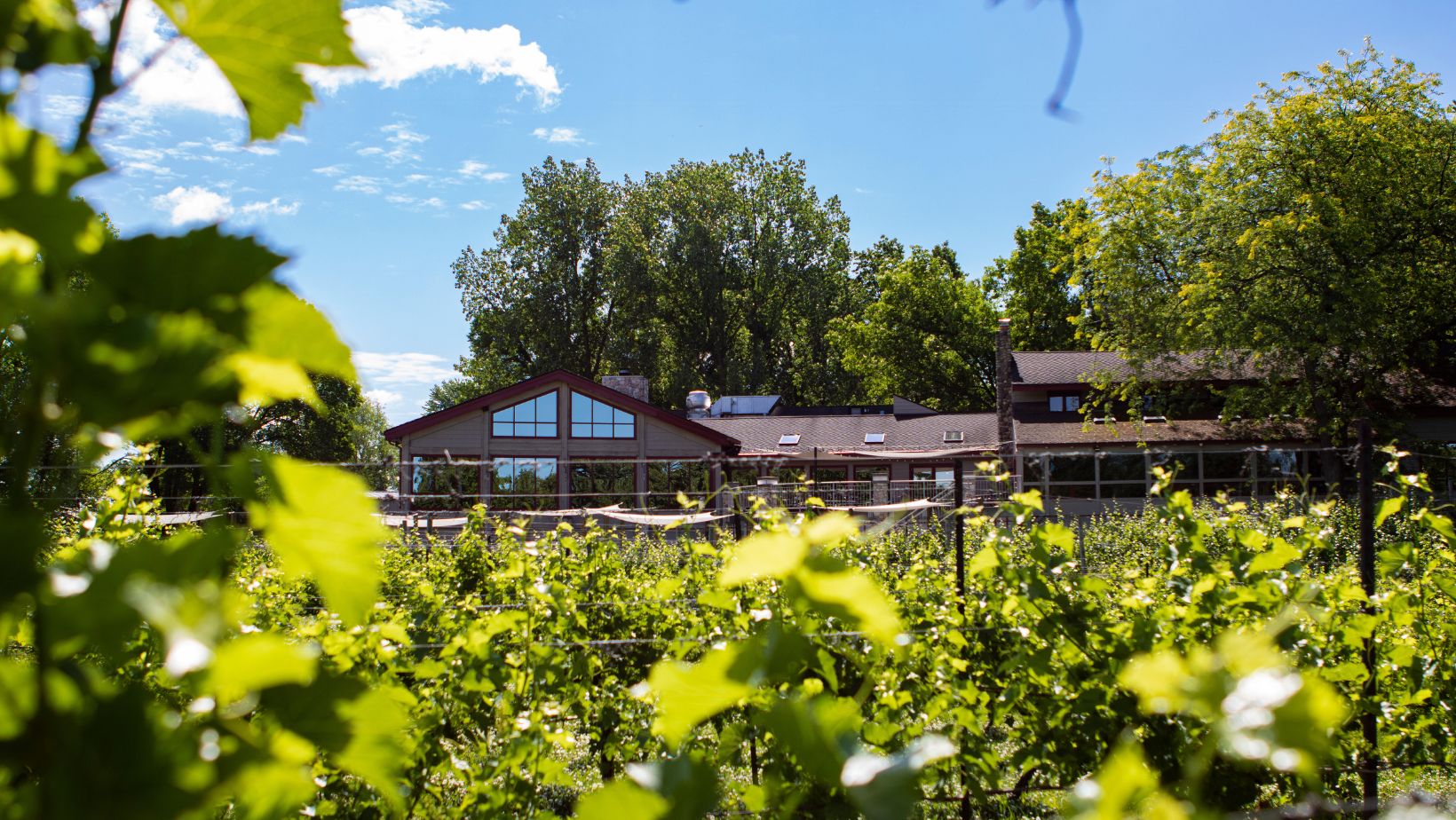 Looking to explore where it all started 50 years ago? Tabor Hill Winery & Restaurant offers you the unique experience to not only dine in the heart of the vineyard, but try nationally renowned wines that have made their way to the White House! 
With six unique properties, there is so much to explore and learn. By embarking on the Sip + Savor Wine Tour, you are setting off on an experience like no other to taste the best Southwest Michigan has to offer.  Now, it doesn't matter which property you start at; all that matters is getting your Sip + Savor card at your first stop and then getting your stamps at the rest. Few things to note:
The trail does not need to be completed in one day, please drink responsibly

To redeem your exclusive tumbler, you must present your stamped Sip + Savor Card to a team member at your final stop

Purchases must be made at each location to receive a stamp
This concludes your mission briefing. We look forward to seeing you on the trail and implore you to step out of your comfort zone, try something new, and, most importantly, have fun along the way.