Cheers to 30 years! We had an absolute blast celebrating our 30th Anniversary this August. Thank you so much to everyone who came out and made this milestone so special for all for us. If you didn't get a chance to make it out to our 30th Anniversary Weekend extravaganza, allow us to fill you in on some of our favorite moments!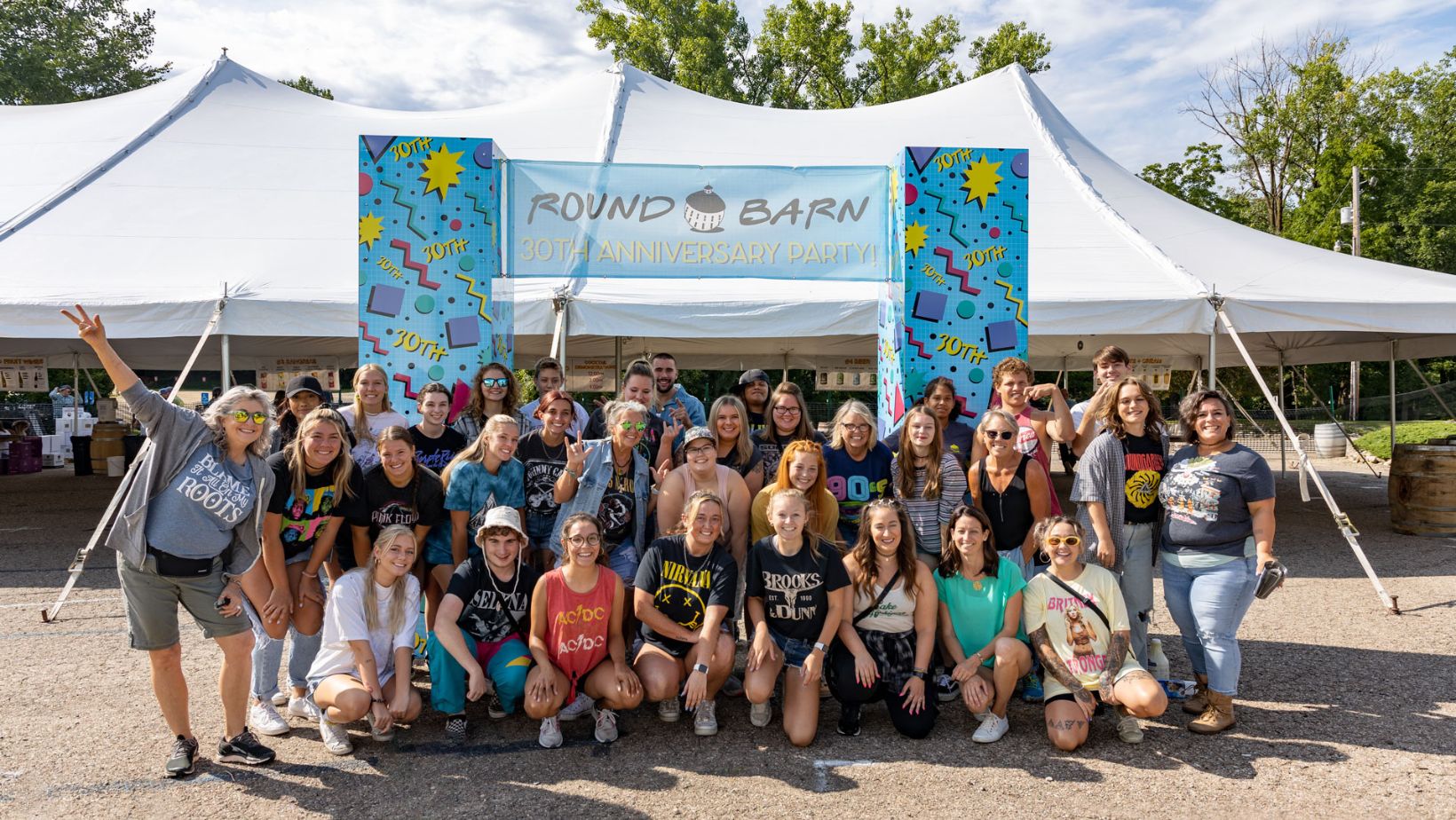 Started as a Grape & Now WINE is Here
Teachers by trade, our founders, Rick and Sherrie Moersch, embraced their passion for winemaking. This passion led them in 1981 to plant their first vines right here in Baroda, Michigan. As the years passed and the grapes grew, the Moersch family bottled their first bottles of wine and opened the doors to 'Heart of the Vineyard' winery in 1992. Fast forward to 1997, and an Amish-round barn was transported and reconstructed on the grounds of the winery, giving birth to what is now known today as Round Barn - Winery, Brewery & Distillery. 
Just like the vineyards that have grown over the years, so has Round Barn's story.  And although much has changed, our hospitality, customer-centric thinking, and family values have very much remained.
So, how did we celebrate?
In August, we gathered to celebrate 30 years of harvest at Round Barn Winery & Estate! We all agreed there was no better way to celebrate than by taking a trip down memory lane.
Growing up in the 90s, some of my fondest memories included getting together with my friends, huddling around the family computer to burn songs onto CDs, and having our own dance parties belting out NSYNC at the top of our lungs. To recreate those totally rad dance parties, we invited all of our F•R•I•E•N•D•S to kick the weekend off on Friday with an ALL-OUT 90s Dance Party, put on by The BBQS - a DJ collective. And they did not disappoint! 
The festivities continued Saturday and Sunday with live music, a grand tasting tent, a product release, cocktail demonstrations, and so much more!
The Experience
From the moment guests set foot on the property, they were completely immersed in all things 90s - a special shout out to our whole team at Round Barn, who dressed in their 90s best! Guests were invited to join us in the grand tasting tent to try a variety of our favorite Round Barn products. With each ticket, guests received eight tasting tokens that they used to try everything from dry to sweet wines, sangrias, spirits, and beer.  And how could we forget the Round Barn Winery's Espresso Cream?! The newest addition to the Round Barn product line, and a new personal favorite. 
We welcomed our Vineryard Premier members to join us in the Vintner's Suite for an exclusive tasting experience like no other. Our members could taste some of the original 'Heart of the Vineyard' wines for the first time, led by our winemaker extraordinaire Keith. Aged to perfection, trying these wines was like sipping on a piece of history.   
Throughout the day, guests were treated to cocktail demonstrations, photo ops worthy of being put up on mom's fridge, a specialty 90s charcuterie board, food trucks, and of course, live music. 
The Music
A Round Barn favorite, we were excited to invite Pablo's Great Revenge to kick things off on Saturday, and did they deliver? Headlining the day, was the nation's most renowned and longest-touring Dave Mathews Tribute Band, Trippin Billies. Guests had so much fun dancing and singing along to their favorite Dave Mathews hits! 
The Rebecca Anne Band opened up Sunday and set the tone for another fantastic day. But we couldn't help but be a little extra excited to welcome back from harvest parties past, Lady Sunshine! Looking out from the stage, you saw a sea of people singing and dancing along with the bands, making it a very special place to be. Seeing everyone come out and enjoy the weekend was truly a reflection of what Round Barn is all about - community. 
The Community We Share
Round Barn has been a special place for families and friends to gather for decades. Whether it's been to enjoy a glass of wine after work or celebrate an engagement or birthday, we feel honored to have shared those memories with our guests. These shared experiences have created the community we love at Round Barn Winery & Estate and made celebrating thirty years so special.
So while you may have missed this celebration, we never want to miss one of yours! We are proud to be the place that has been bringing winos & wanders alike together in our backyard. We can't wait to create & share more memories with you! Cheers to the next 30 years!